Lane Larsen, Adventure Seeker and Explorer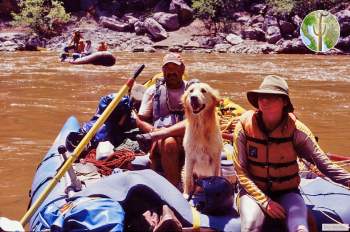 Lane Larsen, who guided a 2005 Rio Aros expedition, passed in late 2006 from a work related accident. He was the most adventurous person I had met to date and always had a more outrageous (true) story than the last.
We first met Lane on the Rio Aros the previous year when we floated the Bavispe to the Yaqui, knowing little about the river. We were one of the few humans to traverse the river in rafts. But Lane had been there and done that, and was there on the river with us, shocking our sense of isolation.
After the 2005 expedition on the Rio Aros there was preliminary planning for a possible expedition on the Rio Mayo, further south. As if burro packing our gear into the remote upper Rio Mayo (known for drug cultivation) wasn't exciting enough, Lane wanted to up the ante. He hatched a plan to rappel boats and thousands of pounds of gear off one of the tallest waterfalls in North America - Basaseachic Falls. After making it to the base of the falls we were supposed to float the boats through forests of house size boulders and impossible rapids down to the Rio Mayo, where we would begin our biological inventory.
Below is a letter we wrote in response to a negative piece published after Lane's death.
---
Published in the Tucson Weekly: Mailbag
Nov. 30, 2006
Lane Larson's Legacy Should Be Honored
Several of us were upset by the Nov. 9 Guest Commentary, "By Not Reporting the Death of Lane Larson, the Dailies Betrayed the Public."
Lane was our friend, and his legacy should be honored, especially so shortly after his passing. Lane was not perfect, but he does not deserve the unnecessary vilification carelessly thrown around in this commentary. Lane was a great inspiration to us and to our community as a modern-day explorer and conservationist. We know from experience that no one had the amazing stories and perspective that Lane had.
For example, Lane navigated nearly every river on the Pacific Ocean side of Mexico, many of them first descents, experiences that brought him face-to-face with jaguars, drug runners, waterfalls and impossible rapids. Last year, Lane led our research team down a remote river in Sonora, work that contributed to the Mexican government canceling a large dam project that would have destroyed this vast and biologically diverse wilderness. Through his adventures and stories, Lane helped inspire appreciation and protection of some of our last wild places.
Lane made some mistakes in life that had serious consequences. But with adventure comes risk and ultimately a form of wisdom few know. Lane Larson was one of the most interesting, adventurous and capable men we have ever met. His accomplishments and legacy should be honored.
Aaron Flesch and Sky Jacobs
Keywords