Biological Inventory Of The Rio Aros, Sonora, Mexico: A River Unknown
Date Published or Written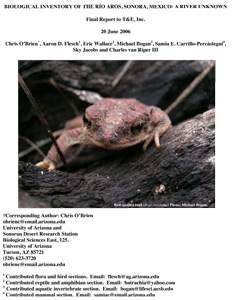 Abstract
Trip report on 2005 biological inventory of the Rio Aros and Yaqui from Natora, Sonora to Sahuaripa. Rafts and inflatable kayaks were used to gain access to this remote and rugged area. Trip participants included Aaron Flesch, Lane Larsen, Samia Carrio-Percastegui, Chris O'Brien, Michael Bogan, Eric Wallace, and Sky Jacobs, among others.
We inventoried the flora and fauna of this stretch river and a few of its tributaries. This is rugged territory and has had little exploration. After the fact we learned that our efforts may have helped stop a large dam project being proposed for the area, a pleasant surprise, to say the least!
This trip was the culmination of two previous years of river exploration in the area by Aaron Flesch and myself. This region is the northern-most extent of a number of species with more tropical affinities. It is very wild due to being supremely rugged. It is also one of the last few decent breeding areas for the Jaguar in all of Mexico. Naturalia with help from the Northern Jaguar Project purchased a 45,000 acre reserve (Rancho Los Pavos and Rancho Zetasora) at the confluence of the Rios Aros, Yaqui, and Bavispe to protect the Jaguar.
Our guide on this expedition, Lane Larsen, passed in late 2006 from a work related accident. He was the most adventurous person I had ever met and always had a more outrageous (true) story than the last. This trip would not have been what it was without him, his adventurous spirit, and his willingness to donate his time and energy for a good cause. This page is dedicated to him.
Attached is the report in PDF format. Please feel free to use information contained in the report, but give proper credit. See some photos of this trip in this Wild Sonora gallery.