State of the Santa Cruz River
Date Published or Written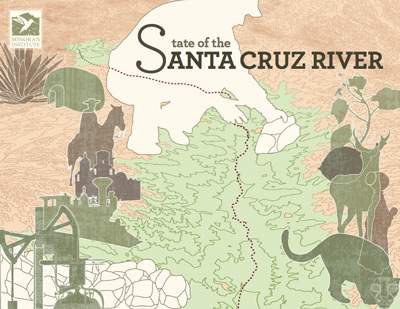 Abstract
The Santa Cruz River has a compelling human history. Telling this story can awaken a deeper emotional curiosity about the river and entice more people to explore the region's rich heritage. The Sonoran Institute is not the first to recognize and share the river's fascinating story. The State of the Santa Cruz River builds on the work of the Santa Cruz Valley Heritage Alliance. The nonprofit Heritage Alliance provides ongoing leadership in recognizing the important link between nature and culture.
Beginning in 2003 the Heritage Alliance led a visioning and public input process that engaged representatives from the ranching, farming, business, tourism, conservation, and government sectors. This diverse workgroup launched the first comprehensive effort to identify, interpret, and preserve heritage assets along the Santa Cruz River. In 2005, the group published a Feasibility Study for the Santa Cruz Valley National Heritage Area, which provides the framework for the story presented in the following pages. The Sonoran Institute's intent is to illuminate historical events that relate to natural and cultural values along the river, rather than provide a comprehensive history of the region. References that supplement and deepen this history are listed at the end of the publication.
The Santa Cruz River's ancient and multifaceted story also demonstrates why diverse conservation actions are needed to protect it. Sonoran Institute, as well as numerous individuals, agencies, and groups are working passionately to protect the water, wildlife, artifacts, and cultural heritage of the river. The involvement of so many parties necessitates a tool that will highlight areas of overlap and potential synergies. The State of the Santa Cruz River—Conservation Inventory, a companion document to this publication available at http://tiny.cc/scrci, will foster collaboration by allowing people working on-the-ground to keep abreast of "who is doing what, where" and help identify conservation priorities. The ultimate goal is to maximize our collective impact.